I've never seen a single-family house without a ground floor.  Have you?

Yet an overwhelming percentage of buyers seeking an apartment in Manhattan and elsewhere demand a higher floor.
As someone who lives in an elevated first-floor co-operative apartment on Manhattan's Upper West Side, I cannot honestly disagree with some of the concerns that buyers express.  Among their issues–must I enumerate them?–are noise, light and security.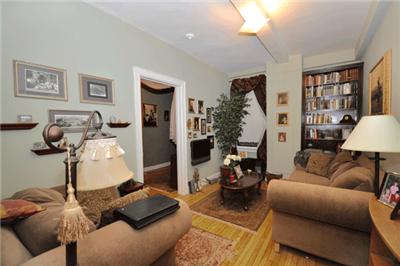 I'll concede that it must be somewhat louder for me than for my neighbors on the top floor, but is it so for those on the second and even third floors?  Are lobby sounds more annoying than hallway sounds?  Probably, because they are likely to occur more often.
Light can be an issue, and I happen to be a person who, because of his sensitive baby blues, prefers less than more. And it's not gloomy anyway, thanks to sunlight reflected from the building across the street that is so bright sometimes that I have to block it.
As for security, maybe crime rates are higher in parts of Manhattan than in many suburbs.
But with a doorman standing a few feet from my barred windows–I don't even notice the bars any more-and plenty of sidewalk traffic, it is impossible to imagine anyone trying to gain entry that way.  And arguably, my front door off the lobby offers more, not less, protection because of random comings and goings.
One thing people don't mention is odors.  It happens that I spend a good part of my workday at a desk next to a window that is commonly open at least a little.  Infrequently, I get an unpleasant whiff of tobacco smoke. Thanks to my location and a well-scrubbed lobby, I don't perceive the cooking smells that permeate the hallways of most buildings.
At the same time, my position next to the sidewalk during a busy day at the computer allows me to feel as though I'm actually outside, catching as I do snatches of conversation, looking up at tree branches and feeling almost as though as I'm sitting in an outdoor cafe.  For privacy, my blinds go up from the bottom, not down from the top.
Usually omitted from discussions about first-floor apartments are the advantages, which are numerous:
Although appraiser Jonathan Miller has told me that he gives no discount for the floor level, such units invariably cost less than those on higher floors, unless outdoor space is involved;
I never have to wait for an elevator and worry not about power outtages;
I can check my mailbox as often as I like without investing more than a minute of my time;
In fact, packages from UPS, FedEx and even the Post Service tend to be delivered personally to my door;
Forgetful as ever, it's a snap for me to return for whatever I've left behind;
In that same vein, I can dart outside to check the weather and make appropriate adjustments.
In other words, living on the first floor is a lot like living in a single-family house–without having to shovel snow or mow the lawn.
–Malcolm Carter